87.7% of authors in the USA are white in 2022, US Bureau of Labor Statistics. 
"I am looking for a legacy in making an impact and truly changing our community, our world. I really want this work to have a much deeper impact than I can even envision right now," Corinne Jolley, Founder of Readers To Dreamers®.
Every human being is the sum of his or her life stories. The way we think, feel, and react to the world is connected to the experiences we have gathered along our existence. Our life stories are the map of our soul, and seeing ourselves reflected in literature — in other people's stories whether they are real or not — can help us recognize our hopes and fears, our dreams and doubts, and even motivate us to improve ourselves. But for people of color in the United States, it is not easy to find themselves represented in literature, a reality that Corinne Jolley and Aichuan Kwong decided to change by making books and authors of color accessible to children.
Aichuan Kwong works in small business operations and consulting. She has a bachelor's degree in Engineering from the University of California, Irvine, and is passionate about early literacy and creating communities and relationships that are reflective of the global majority.
Aichuan met Corinne when she was her son's second grade teacher in Decatur, Georgia. They instantly became friends and decided to work towards equity and representation of diverse communities in children's literature in a school system that is predominantly white.
Corinne Jolley is an elementary school teacher. She was born in Port-au-Prince, Haiti, where she founded Educate Haiti Now, an organization that trained teachers. She has a bachelor's degree in Marketing from Boston College and a master's degree in Early Childhood Education from the University of Georgia. Currently, she lives in Atlanta. 
"We would always talk about our intention to make sure students of color were represented and that we are advocating for all stakeholders, making sure we have a space in the community," says Corinne. "There is a project where authors visit the schools in the area, but some schools don't get those writers' visits, especially authors of color. So I reached out both to Aichuan and Elliott with the idea of Readers To Dreamers® and they were absolutely on board." 
From Readers To Dreamers®
Readers To Dreamers® is an organization which aims to connect books and authors of color to schools and communities that don't usually have access to these events or stories. For Corinne, this vision was something very close to her personal story.
"I remember in high school reading 'Roll of Thunder, Hear My Cry' which was one of the first books I read that had a black girl as the protagonist," says Corinne. "I never knew that I could come across books that actually talked about my ancestor´s story. And it is very exciting that my young kids now have access to a variety of books that they can see themselves in. My mom tells me how she would have loved to have those books available for me when I was growing up. Growing up in Haiti, we imported a lot of French literature where none of the characters looked like me. And I wonder how much of our insecurities and our issues with our identity and feeling confident in our skin has to do with not having representation growing up and seeing ourselves in books."
"When Corinne mentioned the idea of Readers To Dreamers® I was immediately on board because my daughter attended the school where she was teaching and I witnessed the effects that an author visit had on the students," said Rev. Elliott Robinson, Board Vice President of Readers To Dreamers®.
The organization has 7 board members which meet once a month to plan the activities that go from August to April. They began with their inaugural school author visit in April 2022, when the writer Antwan Eady presented his book "Nigel and the Moon" at Toomer Elementary. The project immediately proved to have a positive impact on children.
"There would always be this change in attitude and feeling and excitement in my daughter and her friends around having authors come to visit. They would give me every detail, what they had learned," said Elliott. "It was really energizing to see that afterwards children would either want to do some illustration or write stories. Every kid should have this opportunity."
Connecting Books and Authors of Color with Children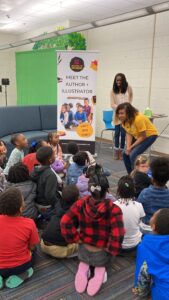 Readers To Dreamers® looks for inspiring stories from authors of color and contacts them to schedule a visit at predominantly black or latino populated schools in and around Atlanta. They arrange the visit, pay the authors honorarium, and provide the children and teachers with a book for each one.
"The authors not only read their books but they also share their unique story and experience of how they stepped into the role of being an author or illustrator," explains Corinne.
Readers To Dreamers® accompany the author in the process at school and may give students activities before or after the presentation. They also interview the children afterwards to get them to think about deeper questions.
Since its inception, the organization has coordinated 5 visits and their goal is to increase that effort in the upcoming school year.
Empowering Children to Share their Story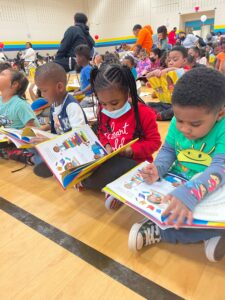 Readers To Dreamers® is about to launch their next social media campaign called: "What's Your Story?" with an emphasis in trying to get more people of color to share their experience of not feeling represented or what it meant to come across that first book where they would find a character that represented them. Furthermore, the organization wants to give a voice to young children and empower them to share their story.
"We also want to see that lasting impact where students are beginning to write their stories and think of themselves as authors," says Corinne.
The organization plans to continue growing and expanding to other cities with their project and, eventually, to the entire country.
"When my now 18 year old daughter was in elementary school, we would have to buy or suggest diverse book titles for some of the classrooms," recalls Elliott. "It was only 15 years ago that many authors of color started being published. To me, it is just raising the level of awareness and finding great titles that kids of color are actually interested in — where they are the protagonists in the book as opposed to just background characters or just a kid that is in the illustration that is someone's friend but they never actually contribute to the book. Every school system may not be open to purchasing these books but there may be those that do. We now have all this push back on diverse authorships which is sad, and we have to be more vigilant about requiring and demanding these books. We don't care what the governors say, we don't care what the state legislators say…we are going to continue to have everyone's voice in our libraries."
Finding The Pollination Project
In order to support their project, Readers To Dreamers® have campaigns where people donate as well as partner with different companies and have them contribute or match their donations. To continue the 2023 project, they reached out to The Pollination Project. 
"Aichuan found TPP. She is our financial guru on the board," says Corinne. "We were so excited to be so aligned with TPP and that you were willing to support such an organization that really is in its infancy. We just love your mission.When we were notified that we had received the grant, I sent a group text to everyone, and everyone was thrilled. This is our first grant, so this is very special to us."
The Pollination Project seed fund will allow the organization to buy the books that will be given for the children and teachers during the next school author visit. 
"We are just grateful that you could see our vision and see that it is coming to fruition," adds Elliott. We look forward to seeing the organization continue to nurture the spirit and dreams of children through stories that allow them to feel seen and included and to be empowered protagonists, the untamable captains of their future.
Join Us 
If you are inspired by this work and have an idea for a project that addresses an issue that you are passionate about, we'd like to invite you to submit an application and together we will build a better, more compassionate future! 
If you would like to support the work of more changemakers like this around the world, please visit our donation page and make a gift today!