Only 3% of children and youth in rural areas have access to computers and the internet, 2022 Nepal Education Fact Sheets by UNICEF. 
"I am hopeful that the new generations want to contribute and give back to their communities, to their people and villages. This makes me feel that we are not alone in this mission, that there are a lot of people like us," Binod Neupane, Founder and Executive Director of United Community Nepal.
The access to digital devices has allowed humankind to make a wide variety of activities much easier, it has shortened distances and opened the doors to an immense amount of knowledge. Yet, the use of technology is not available equally to everyone. The digital gap has left underprivileged people even further behind, creating a new obstacle in their development. 
The lack of access to technology is something that Binod Neupane – Founder and Executive Director of United Community Nepal – experienced firsthand as a child when he lived in a remote village. It was this experience that motivated him to help others who were in the same situation as him during his childhood.
Binod was born in Chirtung, a small village in Syangja District in Nepal, about 3 hours away from the city of Pokhara. He grew up with his parents and 4 sisters, he was the third child.
"I had a lot of attention and care from my parents and my sisters but there were no digital devices in my village," remembers Binod. Despite growing up without access to the digital world, I learned the value of family bonding and the importance of socialization from a young age".
Children and Youth Access to Technology in Nepal
In Nepal, children and youth have limited access to technology and devices to help them thrive in their education. The 2022 Nepal Education Fact Sheets by UNICEF indicates that while 97% of children and youth from 3 to 24 years have access to a mobile phone, only 54% have access to the internet and just 15% have a computer. 
However, the percentages change when it comes to urban and rural areas, according to the study. While only 18% of Nepalese children and youth have internet access and computers, the amount drops to only 3% of children and youth in rural areas with access to computers and the internet; and this percentage reaches 0% of children and youth with computers and internet when it comes to the poorest communities. This is something to worry about in a country where 82% of its population complete primary school, 73% complete the lower secondary, and only 27% complete higher secondary education. But when it comes to the poorest communities only 10% complete their higher secondary education. 
Giving Back to the Community
Binod Neupane is an accomplished community development practitioner with over 13 years of experience in program design and implementation for social, economic, and educational development. He is deeply committed to making a positive impact on the lives of underprivileged women and children. He has a bachelor's degree in Business Studies from Tribhuvan University in Waling and a Masters in Sociology from  Tribhuvan University in Pokhara.
In 2010, Binod began his career as a Community Worker, actively promoting gender mainstreaming and social inclusion in his community. Immersed in the lives of the people he served, he closely witnessed their struggles, stories, and the joy found in small achievements. Binod and his leadership skills flourished as he learned to "Lead by Leading" and marked the beginning of an extraordinary journey.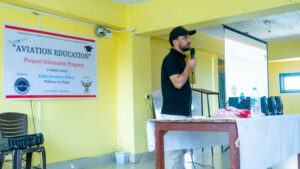 Relocating to Pokhara in 2015 opened new doors for Binod, granting him more access to digital devices and the internet. This expanded his ability to serve and work with various national and international non-profit organizations. With each role he undertook, from project coordinator to project manager, Binod continued to deepen his knowledge and expertise in community development.
In 2020, while the Nepalese community was struggling due to the Covid 19 pandemic, Binod decided to gather a group of friends to work together and help as much as they could.
"During Covid, I was in my village and I came up with the idea of the organization because I had a lot of experience working with the communities since 2010. Seeing the struggles of my people I decided to help them and give back to my community. I discussed this with a group of friends and colleagues I was working with and they agreed to help. People were suffering during the lockdown," recalls Binod. "They had no food and no income. So we thought we could gather some resources and give back to our community. We focused on providing people with Covid relief packages including sanitizers, masks as well as food for over 80 families. Then we realized that the schools were closed for over 2 years. Private schools were able to organize online classes but the public schools didn't have resources or internet settings so they couldn't organize online classes and the children were missing out on their education. There was a big learning gap as they were not going to school and there was a very high risk that those children would drop out of school once lockdown was over because their parents are not well educated, have economic problems, and come from a very poor background. So we decided to organize learning sessions for them, one hour before school and one hour after school, in 5 communities. We hired a tutor from the same community from 2020 to 2022 helping over 260 children and their parents. We didn't focus only on education, we also provided extracurricular activities and gave parents instruction on the importance of education for their children."
In 2022, United Community Nepal was officially registered, an organization created by Binod to develop innovative social projects for the communities of Gandaki Province, Nepal. Currently, the organization has 17 members and Binod is the Executive Director.
A Community United for Nepal
United Community Nepal (UniCoN) is a non-profit organization focused on uplifting the living standards of marginalized communities in Nepal with a special focus on women and children. They provide technology and technical guidance to empower youth, children, and women from rural communities or slum communities.
United Community Nepal implemented a community learning program in Fedikhola, a remote rural municipality of Syangja, providing educational resources and materials to underprivileged children in the village to address their learning gaps. After a year of working in the community, Binod realized the need for technological access and training for children, youth, and women.
The new community project aims to provide access to digital devices and the internet at their learning center to empower them to take advantage of the education and work opportunities available, promoting sustainable development in the community.
"We have a community center there, which was built by the local youth club, but it was neglected for many years and we have renovated it and re-established it as a learning center for children. But they don't have any computers, digital devices or internet," says Binod.
To make this project a reality, Binod looked online for grants that could help his organization pay for the technological devices and services required. 
"I was looking for grants for our community online and I found The Pollination Project," remembers Binod. "I immediately thought this was a very good opportunity for us, so I applied for the seed grant, and when we got the result our team was very excited. We were all very excited and happy. It was a motivation for what we had been doing." 
The seed grant from The Pollination Project will allow United Community Nepal to provide over 215 children and youth and 185 young mothers with skills to use digital devices and search the internet.
"We want to provide children with the basic knowledge of the outside world. We will teach them how to get information from the internet and how to properly use it. For the youth, we will teach them how to find and apply for jobs online so they don't have to travel to other cities. For the women they want to help them to learn useful and find jobs," says Binod, excited to provide his community with equality and better opportunities for their future.
Website: https://unitedcommunitynepal.org/
Facebook: https://www.facebook.com/unitedcommunitynepal/
Instagram: https://www.instagram.com/unitedcommuntynepal/
Join Us
If you are inspired by this work and have an idea for a project that addresses an issue that you are passionate about, we'd like to invite you to submit an application and together we will build a better, more compassionate future! 
If you would like to support the work of more heartivists like this around the world, please visit our donation page and be a part of the change today!