Dakota McMahand-Owens, founder of Budding Artists, started her organization in response to the lack of access to high-quality arts education for young children in her community. As a classically trained pianist, who took her first piano lesson at Watts Towers Art Center when she was thirteen years old, Dakota has spent her life merging art education and activism to create social change on a grassroots level. "I believe that the arts can provide a voice for young children and that it can cultivate creative expression, support relationship building, and nurture social-emotional healing because it has done all those things in my life," said Dakota. 
The Transformative Impact of the Arts
Officially established as a nonprofit organization in October 2018, Budding Artists' mission is focused on stimulating a more inclusive and creative global society by providing transformative, intergenerational, and process-focused art experiences for pre-kindergarten children and their families in under-resourced communities. The organization's programs include: 4-week and 6-week Exploration Programs, Pop-up MakerSpaces, COVID-19 Vaccination Clinic Art Workshops, Annual Exhibitions, Next Chapter Programs, and Public Mural projects. These programs are unique in that they primarily work with preschool-aged children and provide a STEAM-focused pedagogy rooted in inquiry-based studio practices with literacy and BIPOC artist components.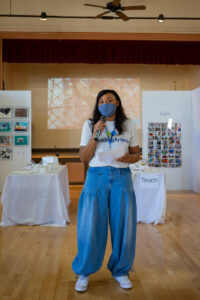 The Budding Artists organization has a profound impact on the lives of children. "Parents often share with our team how their children's verbal skills, focus and concentration, motor skills, creativity, and self-esteem have improved as a result of participating in our programs," Dakota shared. All of the organization's teaching artists are professionals with backgrounds in fine arts and art education and have ties to the community they serve. Budding Artists has provided free arts education programming to over 10,000 children and families. The organization has made a significant impact in the community and continues to strive towards its mission of providing access to arts education for all children.
Dakota faced several challenges when first starting the organization. One of the biggest has been securing funding to both sustain and expand the organization's work. As the saying goes, "no money, no mission" and the organization must continue to secure funding so that it can pivot from a part-time operation to a full-time operation to meet the high need for services.
During the pandemic, Dakota and the team at Budding Artists quickly pivoted to creating curated art kits for their programs, unlike most major art organizations in Los Angeles that immediately focused on creating video content. Their kits included: art materials, English and Spanish guidebooks, English and Spanish tutorial videos, and access to contacting their teaching artists for support. "Our community continues to struggle with a digital divide so having guidebooks with all our art kits ensures all our children, including those who don't have access to the internet, get the same tools and instructional support," Dakota explained, highlighting the differences in approach.
This allowed them to continue providing programming to their community while following CDC COVID-19 safety precautions. They also spent a lot of time working with local city officials in the South and South East Los Angeles area to deliver the art kits safely and quickly to families in the community.
Dakota is proud of many accomplishments with Budding Artists, including being honored as the 2022 CalNonprofit of the Year for Assembly District-63 by State Assembly Speaker Anthony Rendon. In addition, they are proud of the 10 murals created in partnership with Turnaround Arts:California at the Ellen Ochoa Learning Center, with over 200 Pre-k, Kindergarten, and Eighth-grade students in the Spring of 2022. "These murals were conceptualized, designed, and produced by the students and served as a source of pride for the community," Dakota proudly stated. 
Receiving their first grant from The Pollination Project was a significant accomplishment for the organization. "It gave us the support and confidence needed to continue our work," she remarked. 
The Importance of Early Childhood Experiences in the Arts
Dakota wishes that more people understood the importance of early childhood experiences, particularly within the arts. "There needs to be a greater investment in early childhood education in California, specifically in the form of universal pre-kindergarten programs and the expansion of Inclusive Early Education Expansion Programs," commented Dakota. 
In addition, she believes that it should be a requirement for all state pre-kindergarten programs to offer the arts as a curriculum taught by professional teaching artists or through partnerships with arts organizations. "Being exposed to the arts at a young age helps to develop essential life skills and children are never too young to tap into their creativity," she said.
When thinking about The Pollination Project, Dakota would encourage TPP grant applicants to view the process as a great learning experience and to take advantage of the additional support services, mentorship, and potential additional funding opportunities. "TTP is a positive force in the world and the organization can help sustain the growth and motivation of the grant recipient," Dakota happily concluded.
Join Us 
If you are inspired by this work and have an idea for a project that addresses an issue that you are passionate about, we'd like to invite you to submit an application and together we will build a better, more compassionate future! 
If you would like to support the work of more changemakers like this around the world, please visit our donation page and make a gift today!